Afropunk 2017 was, to use the parlance of its switched-on black crowd, lit. Although, each year, the festival gets criticised for betraying its "punk" roots, it's clear that it aims to create space for all black people who have ever felt othered – not just those of us who wear black and listen to a lot of punk rock.
In the last 10 years, Afropunk has grown from a small, free, Brooklyn-based festival, inspired by a 2003 documentary of the same name celebrating black punk culture, into a worldwide black capitalist venture. This was the second London version of the festival. The first was held at Alexandra Palace last year; Printworks, the new venue, works a lot better. It has a dark, edgy Afro-futurist aesthetic, with space for two stages on different floors.
Black people revel in the space. Although in the UK we might not be quite as extra as our African American cousins, Afropunk London is still the most stylish festival I've ever been to, with everything from purple afros dotted with flowers, hats stacked to the ceiling, and this year's on-trend style, elaborately beaded braids.
But music is still at its heart, with an abundance of black British artists. On the Saturday, Mobo nominee Kojey Radical plays a strong early set, moving like a smart, self-confessional preacher with flows that address everything from black identity ("I can't play basketball") to the Ghanaian president. Grime's party gal Nadia Rose begins with an impressive spit-flinging female beatboxer, then turns up the heat with her slick dancers, and gets the crowd moving. "I'm not lying – British music is banging," she yells, pretending to have her time cut before bounding back on stage to play her feminist – and now anti-fascist – anthem Skwod. A few hours later her contemporary Little Simz offers up a totally different vibe: British hip-hop with a fast and smart pitter-patter of lyrics.
In the evening is Corinne Bailey Rae, undoubtedly the best neo-soul singer of her generation, who sashays her way through her jazz-infused set in silver boots and has everyone singing along to an extended version of Put Your Records On. "I wish this community had been here for me when I was 15," she tells the crowd.
Indeed, every performer has a few words to say about the privilege of playing in front of a majority-black audience on the same bill as their black peers. Grime legend JME appears wearing a T-shirt with his own face on it, and turns up the energy to mosh level with his huge hit Man Don't Care. The Internet play a neat, subdued set to round off the evening.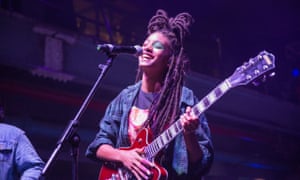 Come Sunday, Andrew Ashong and Born n Bread kill their DJ sets, keeping everyone wining and grinding between the acts. Rapper Mickey Lightfoot draws a smaller crowd but is compelling; Nao's vocals are meanwhile a notch above everyone else's.
Everyone is curious about Willow Smith, who, at just 16, has been in the game for seven years. She surprises with a selection of strong, thoughtful pop songs hanging on her honeyed vocals – but tells the crowd that she's been suffering from an existential crisis. Back on the main stage, a pink-dreadlocked Thundercat twangs his way dexterously through a wickedly fun jazz-fusion set, showing off his dextrous bass guitar musicianship. Lianne La Havas is the perfect finisher for the evening. The singer, who only learned the guitar at 18, plays without a band, and leaves us with her mixed-race identity anthem Green and Gold.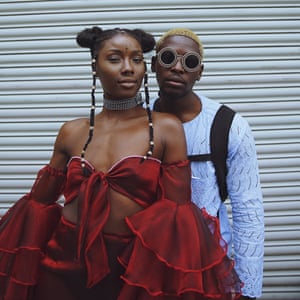 As the acts who performed illustrate, the special thing about Afropunk is that it doesn't let you forget the diversity among your people. My theory, buoyed by experience at Afropunk, is that the common "urban" conception of what blackness means in the UK is so broad that not many people actually fit into it comfortably. In reality, the most common black experience in the UK is that of being othered. At the last census we still only made up around 3% of the population; unless you live in an urban centre like London or Birmingham, and sometimes even if you do, you're likely to have carried the visible signifier of your difference around with you like a ball and chain. So many of us have been deemed "Oreos" (brown on the outside, white in the middle), for not liking the right kind of music or being into stereotypical aspects of black culture.
Afropunk admirably confronts those narrow stereotypes – as noted by queer black collective BBZ, who turn the VIP area into a series of black teenage bedrooms, and who herald the "Afropunk ethos of the variety and plethora of identities that exist within black culture". Even so, Afropunk London is still working the knots out of its 'fro. For a festival that markets itself on its diversity and the values of "No Sexism, No Racism, No Ableism", it was disappointing to read on social media that disabled people struggled with access.